Let's play Fortunately Unfortunately
Fortunately, pizza tastes nice.
Unfortunately, I can't eat bread.
Fortunately, I found this recipe from Kalyn's Kitchen.
Unfortunately, I had no zucchini.
Fortunately, I did have eggplant, so here's my own version:
Grilled Eggplant "Pizza"
Cut eggplant into slices about 1cm thick

Brush with oil and grill on one side for 5-7 minutes.
Place eggplant slices on a chopping board, grilled side up, and top with your favourite pizza toppings. I used pizza sauce, basil, pesto, tomato, mozzarella and Parmesan.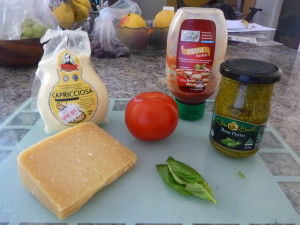 Grill for another 5 minutes or until cheese is melted.
Serve with salad and you have a quick, healthy, low carb meal that tastes great and satisfies pizza cravings.